Enhanced Global Monitoring & Service Health.
Today our engineers have successfully launched version 3.0 of our service health global monitoring. Every minute, we are monitoring and testing all BEZA.NET services from various global locations to guage service performance and stability. This tool offers our customers a real time view of the health of their BEZA.NET services. They can access this information from any device (desktop, mobile, etc). Checkout the newly enhanced service health status here.
Furthermore, we are strong believers of offering fully independent third-party uptime monitoring. As such we have partnered with StatusCake, one of the industry leaders featuring service uptime monitoring, domain monitoring, SSL monitoring and a whole lot more.
Public Reporting
We can now set up various reports and share them with our customers to give them a real time insight on the health of various services from website performance, CPU load, storage health and much more.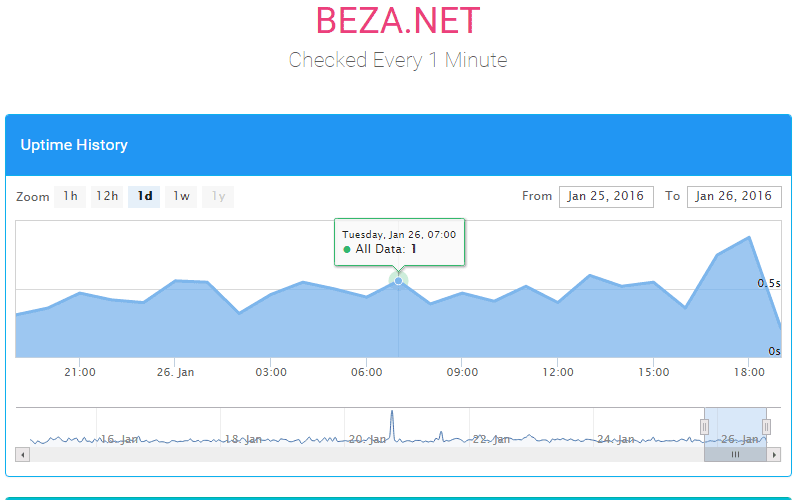 More Than Website Performance
Unlike other services, we offer customers to view historical service health and performance data. Customers are also able to view the frequency we are checking a particular service (typically every 1 minute). We also go beyond simple health checks and have developed a number of proprietary technologies which help deliver the highest stability and performance. For example, if any sever cluster CPU load increases above 50% for 5-minutes, our engineers are alerted and it's flagged in our public reports. We do this to demonstrate to our customers that we don't oversell our hosting services. We're also monitoring memory, storage, databases, and much more. This gives our customers the peace of mind and assurance that our mission is to deliver the highest level of service and support.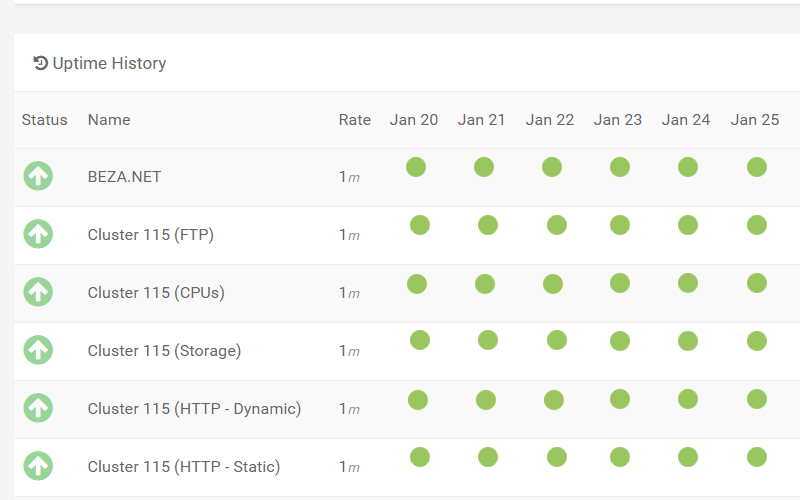 Daily Blacklist Checks
The daily Blacklist (RBL) checks are now fully integrated with the service health version 3.0. In prior versions, we've always monitored all of our domain names and IP addresses but it was done via a separate service. Now our engineers can get alerted and view any Blacklists for a hosted domain name or IP address from a single dashboard.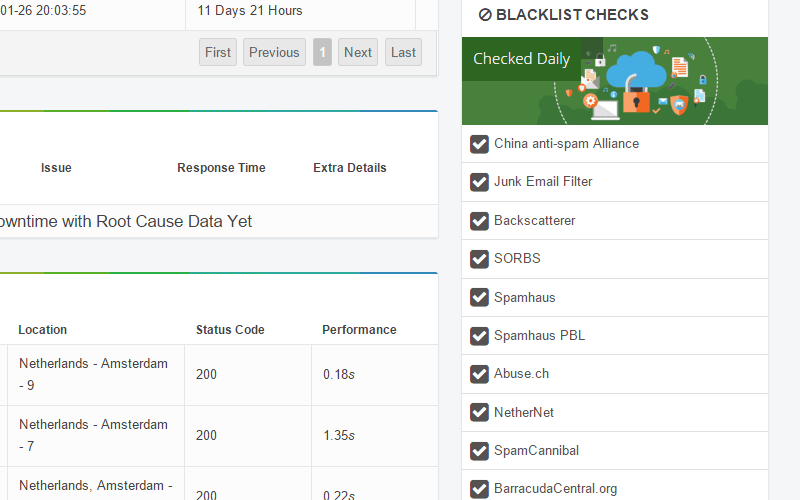 Minute-by-Minute Analysis
We can drill down on any service health to see the minute-by-minute status. When an issue occurs, our engineers are alerted and within seconds are working to identify the root cause and remedy the issue promptly before any customer is impacted.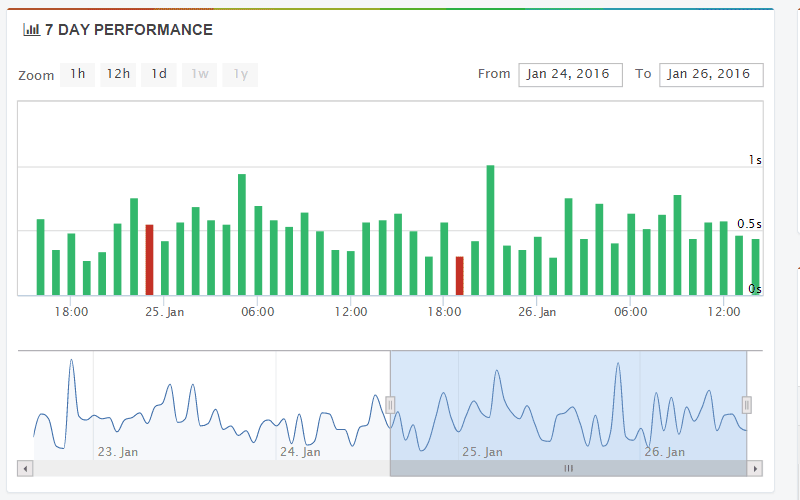 Hourly Virus Scans
We take security very serious as we pride ourself on having one of the highest level of security to protect our customers data and services. With version 3.0, we are happy to have hourly antivirus scans performed across all of our critical websites. That's on top of our multi-layer security services which are constantly scanning every single packet of data that passes through our network to identify if it's malicious or legitimate. The Systems Integrity & Security (SiS) services are updated every 5-minutes to protect against the latest threats and viruses.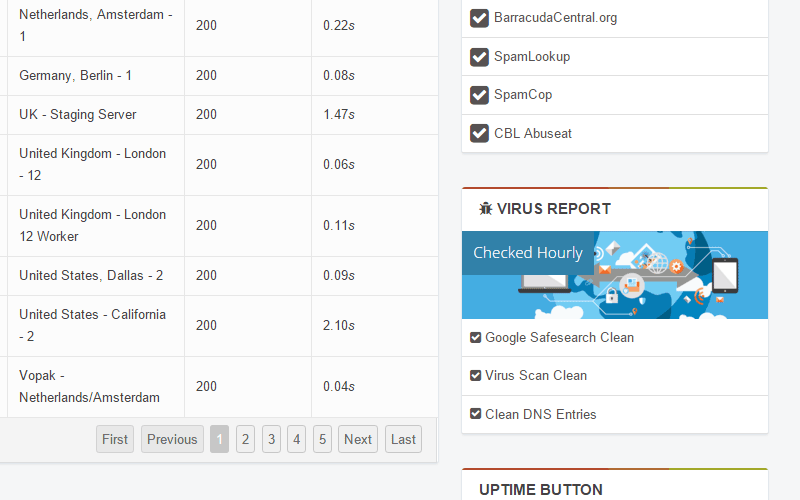 Detailed Root Cause
When there is an issue, our engineers start working on identifying the root cause and taking corrective measures. We have one of the industry leading engineers whose goal is to address any issues as quickly as possible without doing any harm. For anyone who has worked in the technology industry long enough, in a rush to fix an issue can sometimes leads to unintended consequences.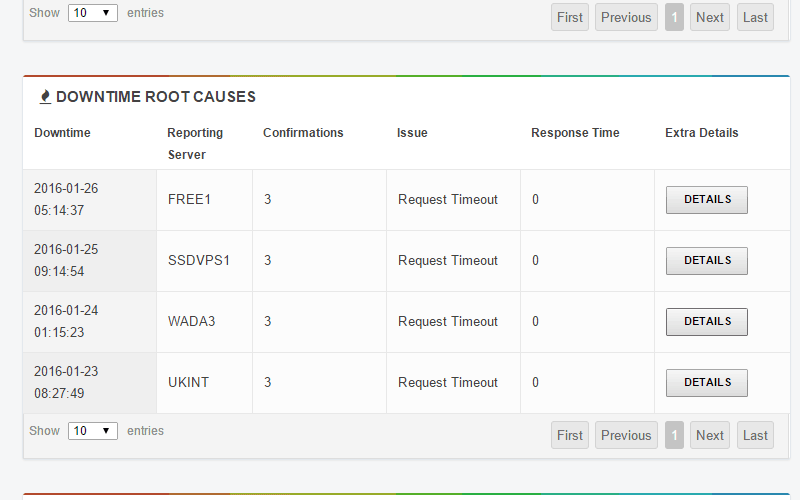 Latest Status & Service Performance
For any of the monitored services, our engineers can see minute-by-minute reports from the test networks stationed across the globe. They can also see the service status response code (a 200 status code is for websites which are operating properly). We also monitor the response time which is another critical factor to ensure the websites we host are performing at superfast speed.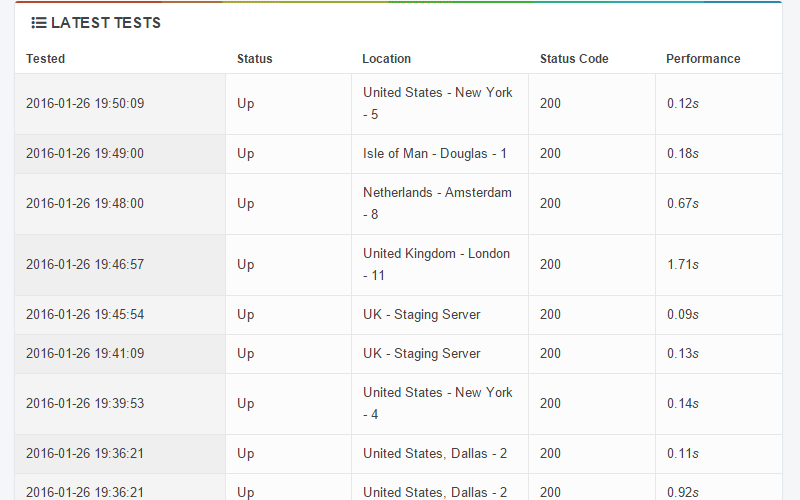 Domain Names Expiration Alert
This is a nice feature for anyone who has their domain name registered in different domain registrars or might not get email notification about an upcoming domain renewal. BEZA.NET customers who have their domain name registered thru us can rest assured we will never let a domain name expire without someone from our dedicated account managers reaching out by email & phone to alert of an upcoming domain experation. And in some cases where we couldn't reach the customer (during the holidays or on vacation), we gladly renew the domain name on our dime. This is just one way we are dedicated to our customers business success.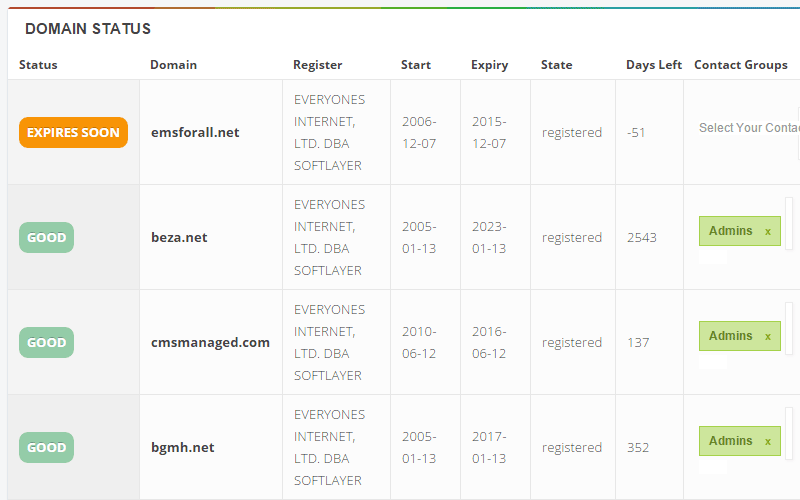 SSL Certificate Monitoring
Another nice feature with version 3.0 of our service monitoring is the capability to get the health of a SSL certificate. We use SSL certificates to protect our customers sensitive data. We've always monitored all SSL certificates but now we have it fully integrated within our Global Service Health & Monitoring dashboard.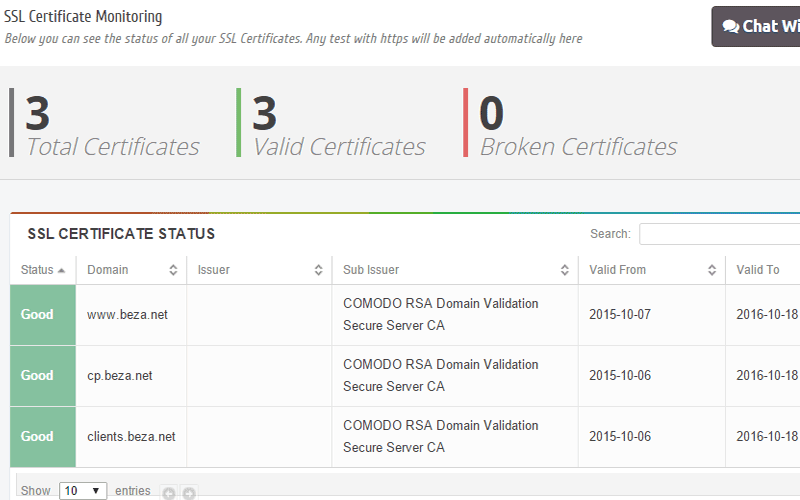 Over the coming weeks, we'll be adding additional capabilities to better serve our customers needs. We'd love to hear from you on what you'd like to see implemented in our service health & monitoring dashboard.